Escape from Heaven — Chapter XII


Go to book's beginning.
Read the previous chapter Chapter XI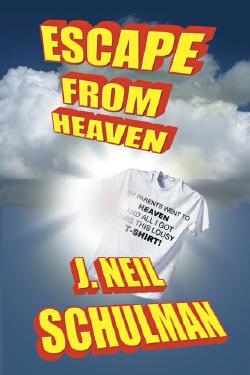 Escape from Heaven
A Novel by J. Neil Schulman
Chapter 12

If you think the first thing I did was get a colorful Spandex costume made so I could fly around looking like I was wearing underwear and a cape, forget it. While God had pretty much left me on my own to generate a strategy to win back the earth for him, I didn't think looking like I was performing a circus act at a Las Vegas casino hotel was a good first step.
The job I had been given was to rally people already on our side and win supporters from the undecided and away from the opposition. I'd been hired by God as a publicist trying to sell a way of looking at things. If I'd started thinking of myself as some sort of savior, it wouldn't have been about the mission anymore; it would have been about me.
Don't get me wrong. I made careful calculations of exactly how much face time I could get on TV if I flew a couple of loop-de-loops in front of a Fox News camera crew, took a stroll on the surface of the Mississippi River with CNN taping, or pulled a real Superman stunt by rescuing people where even firemen thought it was impossible. But I didn't want to have to spend all my time breaking out of the locked cells doing stunts like this would have put me in, after investigators dispatched by everything from the Pentagon to the Centers for Disease Control and Prevention decided they needed to know what made me tick.
If my "super" powers were going to be of any use to me at all on this mission (and I wasn't at all certain they were) my use of them was going to have to be discreet, selective, and subtle. This wasn't a job for a superman so much as it was a job for a writer who could get published in a great metropolitan newspaper.
God had said a circle would form around me. But I didn't know who they were and when they would show up. In the meantime, I was on my own.
One important decision I had already made. I was not going to throw my own hat into the ring as the gubernatorial candidate of the Party of God. I had played back God's message to me several times and listened carefully to what he had told me. He had called me an ambassador and a campaign manager. He didn't say anything about my being a candidate, myself.
It looked as if my first job was to find a candidate whose campaign I could manage and convince him or her to run.
I had no idea how much support I could expect from existing churches, synagogues, and mosques. They all said they were on God's side but even if they really were, a proposition that didn't seem at all certain to me, why would any of them give me the time of day? If I just told them the truth about my mission, why wouldn't they consider me a heretic? If I performed a small miracle to convince them of my credentials, why wouldn't they regard me as a demon sent to deceive them?
Then there were all those people out there who weren't affiliated with any organized religion but who considered themselves "spiritual." It looked to me like this was already a saturated market, with a popular medium channeling ghosts on TV, an author writing about his conversations with God (I wondered if God had served him as good a breakfast), people looking for secret messages in the Bible, and a guy who repeatedly got struck by lightning trying to explain how the universe worked to people who didn't even know where their fuse box was.
No, if I was going to have to actively hunt for a candidate, I was going to have to find the right person the slow way, by looking into people's hearts, one by one, and seeing what was there.
Moreover the decision might also depend on who the Anorexics were going to run for governor. It seemed completely unlikely to me that Lucifer intended to run for the office herself. With the tunnels out of service until the end of the Interregnum, she wouldn't be able to campaign in person unless she'd moved headquarters to earth and was trapped here. With all three of the Trinity excluded from running, and Lucifer not in the race, it was likely that both parties were going to be running their candidate as a proxy.
At least I didn't have to worry about third-party candidates and independents entering the race. Lucifer was worried enough about the Party of God. The full text of Satan's treaty with God were in my briefing documents on my internal desktop, which included details of how the election was to be conducted. Lucifer had insisted, and God had conceded, that third-party candidates and independents wouldn't be on the ballot.
Too bad. On election day I might have crossed over party lines myself and voted Libertarian.
I realized that the first thing I needed to do was scope out the opposition camp, see who they might be thinking about running, and find out just exactly what I was up against.
Meanwhile, I still had my day job — four hours a day, five days a week — as a radio talk show host. I might not yet have been certain just exactly how I was going to accomplish my mission but I was pretty sure of two things. The first was that my ability to speak weekdays to a large radio audience was an asset. The second was that if I started talking too much on the air about theology, I'd lose my audience, my Arbitron rating, and my show, in that order.
I really shouldn't have worried so much. Things have a way of working out for themselves, when you're on a mission from God.
I was back in the K-TALK studios only a few days when my engineer, Terry, told me during an off-air break that I had a personal call. "You're not going to believe this," he told me, "but it's Manchu Ellins."
"Are you sure?" I asked him.
"Unless we have someone who can play around inside Verizon," Terry said. "That's how the caller ID comes up and I don't think it's Seth MacFarlane doing the voice."
I picked up the phone to see if the caller was indeed the legendary movie actor/director/producer whose last eight pictures had each grossed over three hundred million bucks. "Duj Pepperman," I said.
"Manchu Ellins," the voice said. It was him, all right. The voice, the speech mannerisms, were unmistakable. "I didn't think you'd be surprised to be hearing from me. I thought you'd have been given some advance warning?"
"Look for a circle to form around you," God had told me, but the first in the circle was one of the half dozen people in Hollywood whose "yes" to a project was an automatic green light?
I could see Terry still listening in from the booth. I give him the signal that this was a private call. He looked disappointed but hung up his extension.
"Yes, Mr. Ellins," I said. "I didn't know that it was going to be from you specifically but I have been expecting a call."
"Good, that will save us some preliminaries," he said. "Would you allow me to show you my hospitality by coming by my house for dinner? Or if you prefer," he said with a little chuckle, "there are some nice clubs where I never seem to have a problem getting a good table."
"Your house will be fine," I said, trying to sound cool, when actually, there was a little kid inside of me jumping up and down. Meeting God was one thing, but this was a movie star.
"Do you have plans for this evening?" he asked.
"No other plans," I said. "I've been keeping my calendar loose."
"I'm at the house in Beverly Hills. I'll have my assistant email you Yahoo! directions, unless you'd prefer that I send a limousine?"
"That's very generous, but I like to drive," I told him.
"Cocktails at eight-thirty, dinner at nine. Don't bother dressing for dinner; I'll be in shorts and a Lakers jersey," he said, then hung up.
Wow! I thought. This whole world-saving business might not be as hard as I'd worried. Manchu Ellins. Guest on The Tonight Show with a simple phone call. Name recognition surpassed only by Mickey Mouse. Ruggedly handsome, Best Actor Oscar for playing a hero in the War Against Terrorism, so iconoclastic that he had fans both on the left and the right.
The perfect candidate.
Terry saw me hang up the phone and opened up the studio intercom.
"You'll never believe whose house I'm having dinner at tonight," I told him.
Terry, who was impossible to impress, looked impressed. "Who did you fuck that you rate the A list?" he asked.
"It's not me, this is some business for our boss," I told him.
"If his wife is going to be there," Terry said, "I'm going to kill you and go in your place."
"Been there, done that," I said, grinning at him through the glass, and we barely made it back on the air in time after the traffic report was finished.

#
Next in Escape from Heaven is Chapter XIII.

Escape from Heaven is
Copyright © 2002 J. Neil Schulman &
Copyright © 2010 The J. Neil Schulman Living Trust.
All rights reserved.
---
My comic thriller Lady Magdalene's — a movie I wrote, produced, directed, and acted in it — is now available for sale or rental on Amazon.com Video On Demand. If you like the way I think, I think you'll like this movie. Check it out!


No comments yet.
No trackbacks yet.